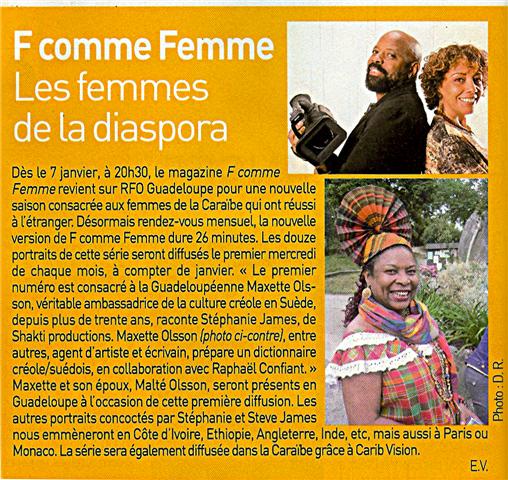 Maxette Beaugendre-Olsson was born in Guadeloupe and lives since thirty five years in Sweden. She has held many jobs, has managed her own clothing store and was the first black actress starring in the advertising campaign of the largest Swedish brand "IKEA" in 2006. Her laughter, her natural generosity and her colorful Creole style made her one of the most popular in the country. She is the number one of the series F COMME FEMME DIASPORA (W AS A WOMAN DIASPORA) produced by
SHAKTI PRODUCTIONS
.
Steve and Stephanie JAMES created
SHAKTI PRODUCTIONS
as a tool to promote the Caribbean around the world. They are currently producing their new series "West Indies Women in the Diaspora" featuring Caribbean women who succeeded around the globe. F COMME FEMME DIASPORA is produced by STEPHEN & STEPHANIE JAMES Shakti Productions and Canal Overseas productions.
©www.shakti-prods.com
No. 1 "Maxette Olsson"
Guadeloupe broadcast on TV: Wednesday, January 7th, 2009 at 20:30
Re-broadcast: Sunday, January 18th at 18:30 and Monday 26 at 18:00
On TV Martinique planned release Wednesday, January 28th at 7:35 (am).
Emission sent to TV as Guyana and France Ô.