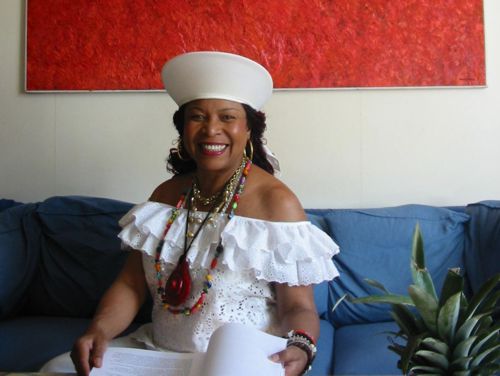 Maxette Olsson. Photo Malte Olsson.
"Med det kreolska skrattet som livsverktyg"
by Thérèse Marklund
Source : Sundsvall Tidning - 28.7.2004
Translation : Jack Thorton
"With the Creole laughter as a life tool"
For years Maxette Olsson ran a clothes store in Sundsvall Nowadays. She resides in Stockholm and spends her life writing books. Soon her dictionary in Creole will be released, the first ever to be translated into Swedish.
Maxette Olsson is a bundle of energy in bright clothes. After opening the door to her tastefully decorated flat at Kungsholmen, Stockholm, she bursts into a large and wonderful laughter. She explains that she loves to laugh and that you'll live longer by being happy. Next to her computer are piles of finished manuscripts, both novels and books for children.
– Many of my books are in the process of being published, amongst others a horoscope on guardian angels. And the next year the Creole-Swedish dictionary is due, Maxette explains.
Born in the West Indies
She originally comes from the town of Basse-Terre on the small island of Guadeloupe in the West Indies. When she was 16 years old she moved to Paris to study. At the age of 17 she became pregnant and gave birth to her son Franck who today is 37 years old and lives in Guadeloupe. At the end of the seventies she left Paris and moved to Sweden after having met a man from Sundsvall.

In Sundsvall Maxette started a clothes store where she sold the latest confection from Paris. The store was first situated on Strandvägen but then moved to Rådhusgatan. Among other things, Maxette Olsson held fashion shows for the Red Cross and Save the Children but didn't stop there. To establish good contacts she bought roses that she distributed at homes for the elderly and also arranged a class in French for senior citizens, wanting to learns the language.
– It was great fun and we laughed an awful lot together, she says with a big smile.

The first years were rough.
During the weeks, She contributed to the life of culture by holding art exhibits with, among others, Karin Olsson and Jöran Nyberg at Stadshotellets nightclub.
While Maxette was busy with the clothes store and other projects she devoted herself to writing. After a few years she more and more felt that she would like to become a full time writer.
– A few friends told me "if you want to live like an artist you have to leave everything". So I did. I sold my store and moved to Stockholm in 1989.
The first years were tough but Maxette didn't quit. Today her hard work has brought results. Among other things she's published a book in French about the artist couple Alexander and Chantal Lindström who have/had roots in Sundsvall. She's written the screenplay for a novel with the title "Mes Maîtresses-Femmes Créoles" (My strong creol women) which is about women's life after the war that raged on Guadeloupe in the fifties and sixties.
The first dictionary of its kind
She's also written the manuscript for "Your Guardian Angel – Horoscopes" which is written both in Creole and Swedish and most likely will be published next year. Her large project at the moment is her work with a complete Swedish-Creole dictionary, which is something really special since the dictionary is one of a kind in Swedish. Creole, which is the language of the natives, was pushed back when Guadeloupe was conquered by France in the 17th century and the inhabitants were forced to slavery.
– When I grew up it was forbidden to speak Creole. Dancing Creole dances and sing songs weren't considered good manners either.
The dictionary will be published by the end of next year by a French publisher. In lead of this project is the writer Raphaël Confiant from Martinique. Maxette is doing the translation work with two language scholars at the University of Stockholm and the University of Gothenburg. Her task is to create the correct nuance and meaning of the words though the use of her knowledge concerning the countries traditions and culture. Creole became a written language as late as some ten years ago. Previously it's only been available in speech.
A dream come true
– It's long been my dream that my forbidden language would once be written, I don't want it to disappear. Finally my dream has become true, she proudly says.
Maxette has always new projects underway which she joins with great enthusiasm and always with a laugher on her lips. For a few years she and her husband Malte Olsson lived in Boston where she tried the profession as stand up comedian at the Comedy Studio at Harvard University. Recently Maxette was filmed in connection with her cooking Creole food. The tapings of the cooking show have been both in Swedish and French and is now being sold to different TV stations. After her work with the Swedish-Creole dictionary is done, Maxette plans another
novel.
– I live for writing; that's powerful, she says.